Crane Tea
Regular price
Sale price
$9.00 USD
Unit price
per
Sale
Sold out
Award-winning decaf green tea from the green tea capital

✨ Free shipping globally for orders over $30 AUD ✨
Decaffeinated via carbon dioxide extraction. Certified organic (CERES) and kosher (KOF-K). 
Notes: Savoury and roasty with a hint of bitterness. Fresh, upbeat and lush. Great for people who are lovers of green tea but also for those new to green teas. 
Pair it: Perfect for winding up or winding down. Enjoy with chocolate, cakes and cookies, or dumplings, seafood and rich meals. 

Origin: Hangzhou, China - famed for green teas.  
How to enjoy:
Steep a heaped teaspoon of decaf tea leaves in 85°C water for 2-3 minutes. Adjust steep time according to your strength preference. 
And keep enjoying:
Keep in a cool place, away from direct sunlight. Use within 24 months for the optimal cup of tea.
Share
View full details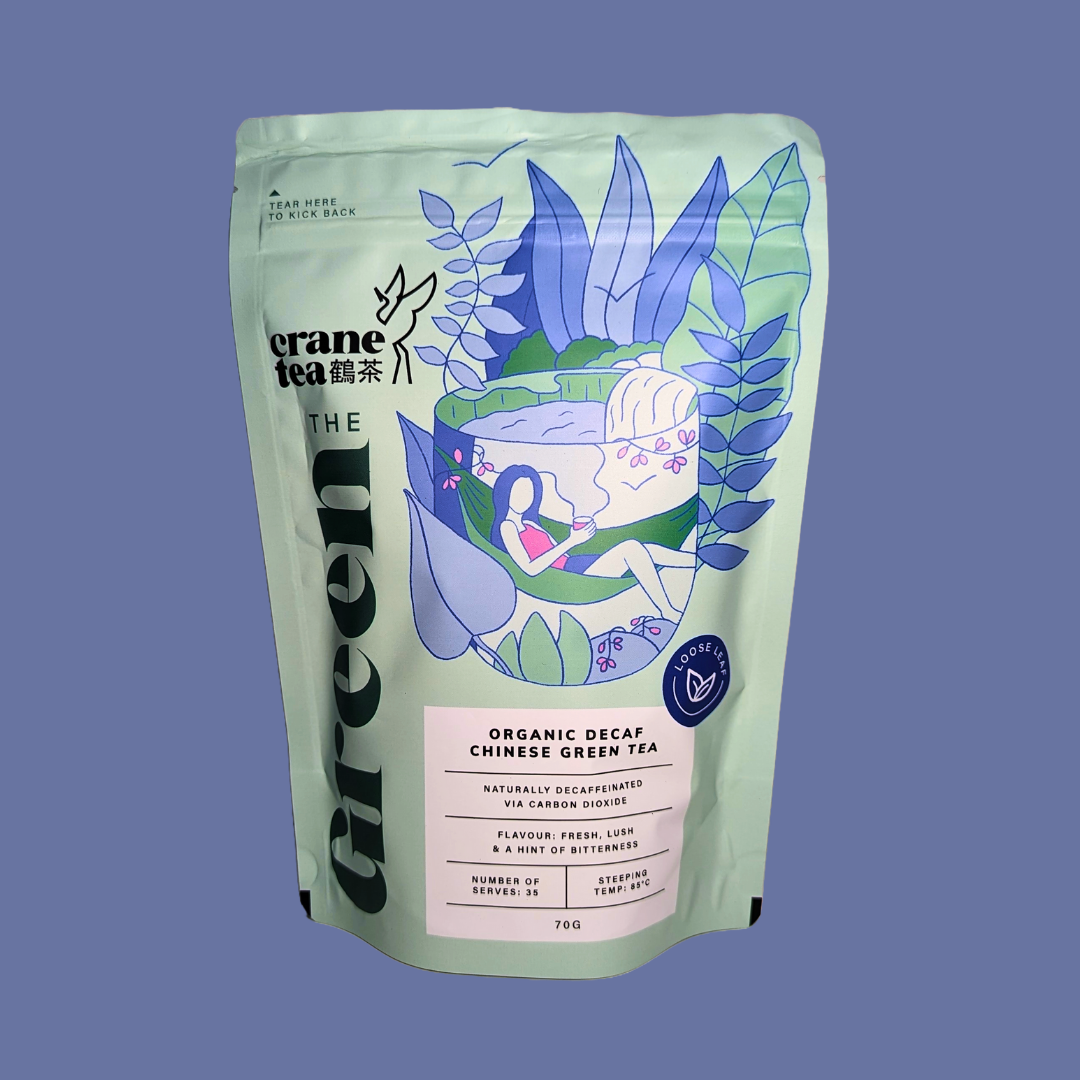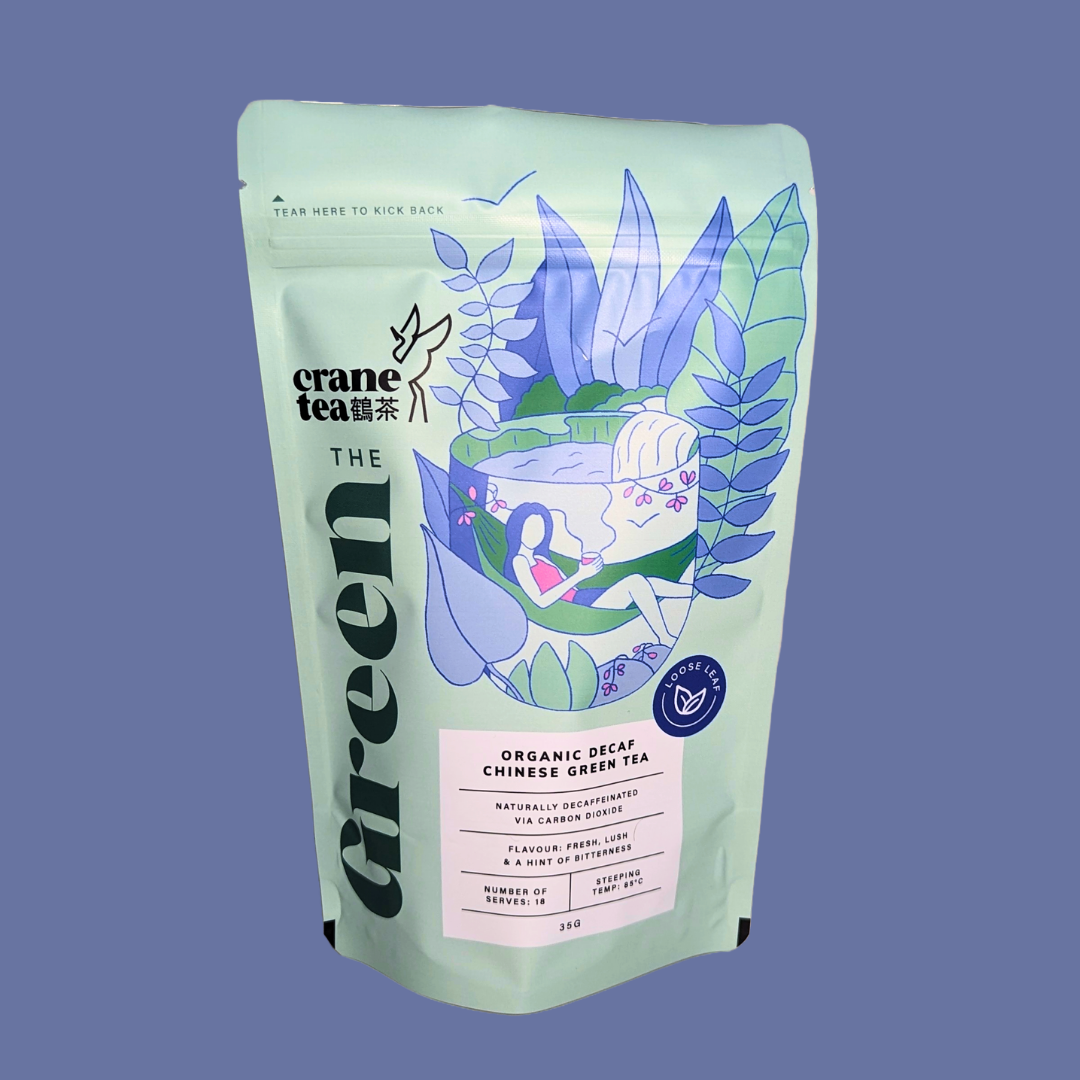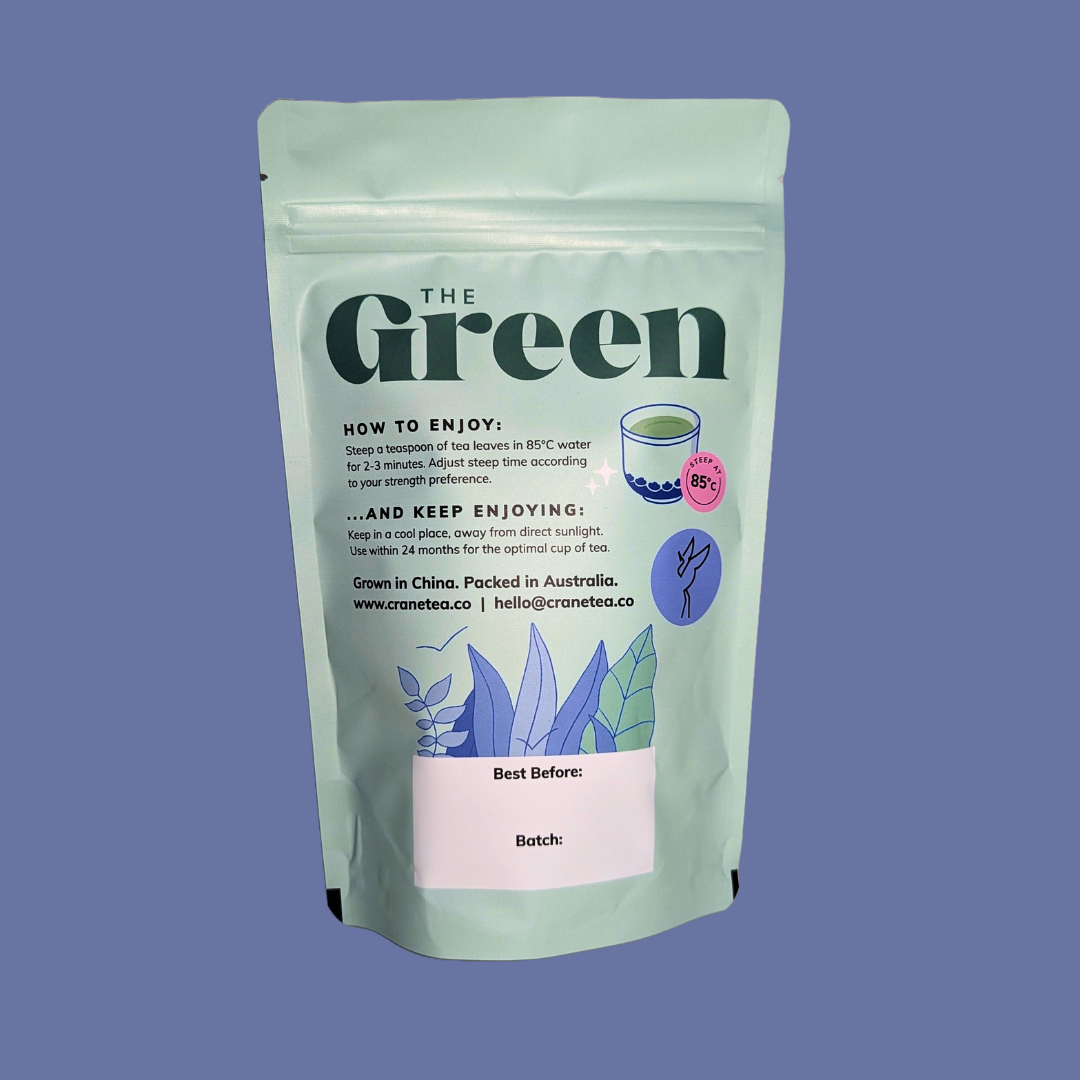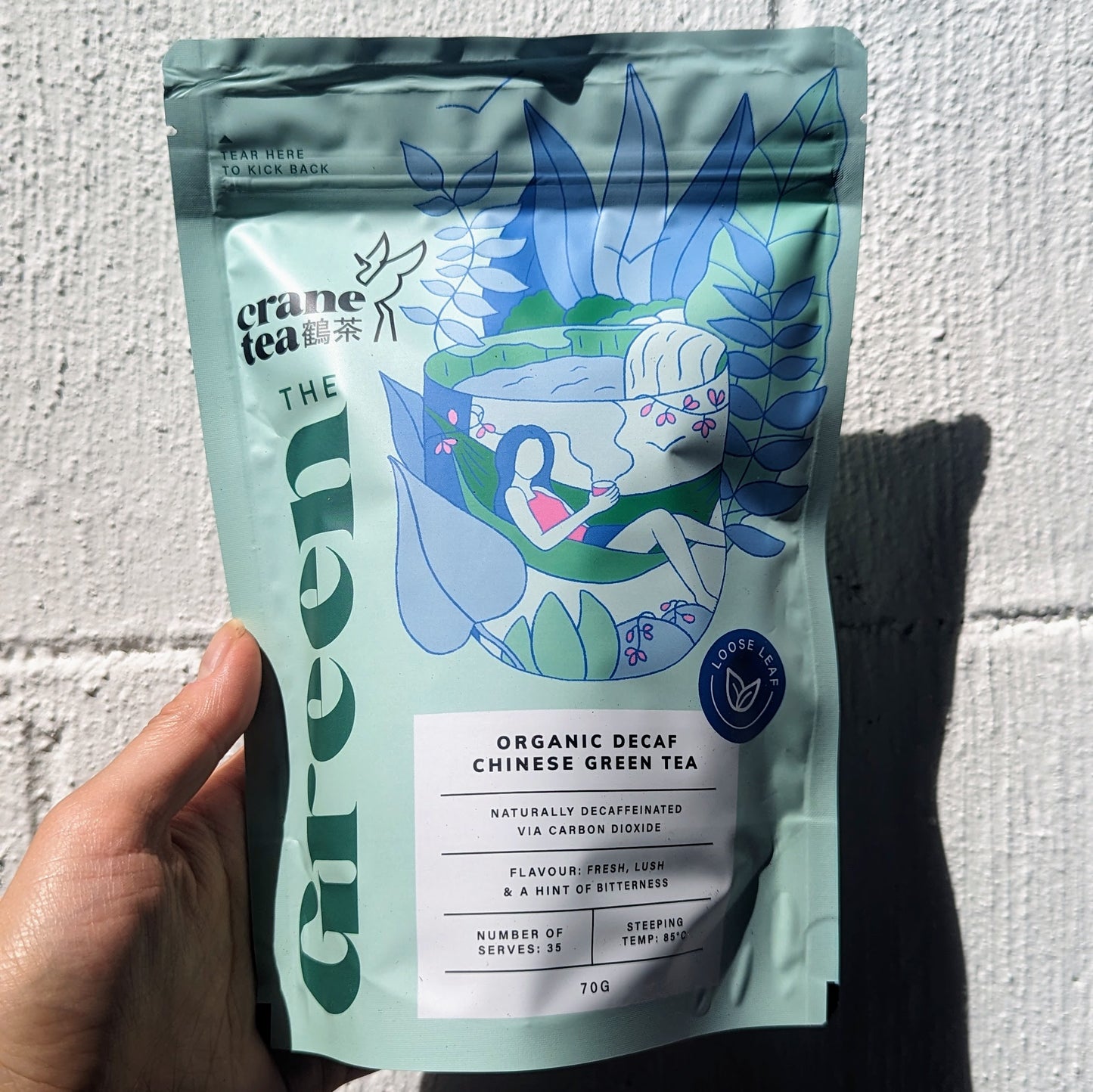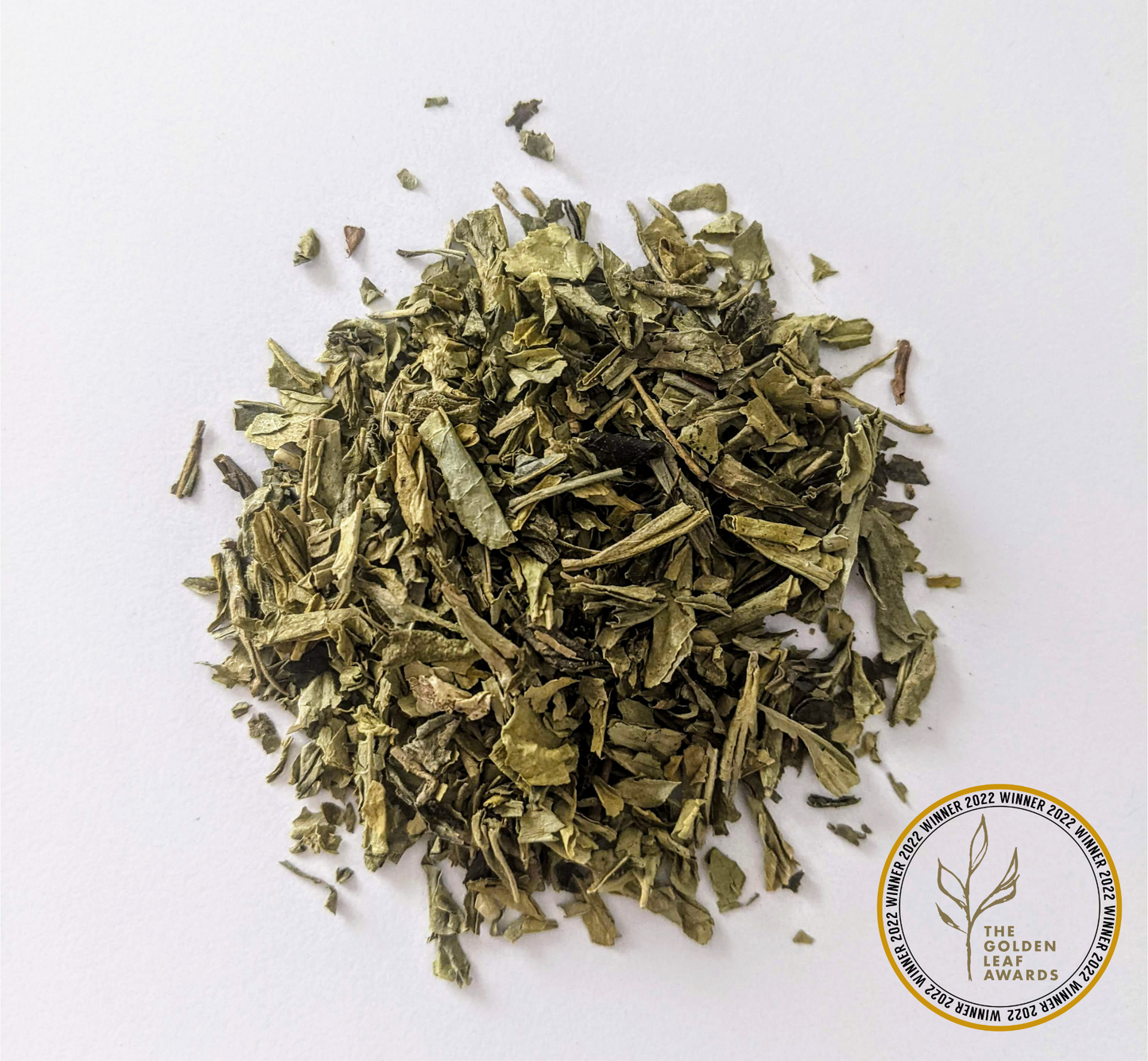 Got a question? We have answers!
How many servings of tea are in a packet?

Our 35g packets have around 20-30 servings each while our 70g packets have around 40-60 servings each. This all depends on how strong you like your cup of tea.

We encourage you to steep a few cups of tea or a teapot of tea from each serving of tea leaves. This enables you to make the most of your packets plus enjoy the meditative practice of brewing and rebrewing.
How is the tea decaffeinated?

Crane's teas undergo the carbon dioxide extraction method. We think it's the best way to extract caffeine while leaving the tea leaves as unaffected and pure as possible, saving just flavour, antioxidants, and happiness in the tea leaves. 

It's important to note that decaffeination is never going to remove 100% of the caffeine, but the aim is to get it as low as possible. Our teas at Crane Tea aim for under 2% of caffeine content per serving. 

Find out more about carbon dioxide extraction.
How should I brew my tea?

You generally want to steep green tea in water that has been heated to 80-85°C. Anything hotter may burn the tea leaves and give a more astringent taste.

On the other hand, black teas are more robust and can be steeped at 100°C.

If you want to get real fancy, you can even heat your mug or teapot with hot water first so that your tea doesn't cool down too quickly. And use a mug and/or teapot that makes you happy :)

But everyone's cup of tea is personal. Feel free to adjust the quantity, timing and temperature according to your strength preference.
What's the difference between green teas and black teas?

Green teas and black teas all come from the same plant: camellia sinensis.

The main difference is that black tea goes through an oxidation process while green tea doesn't. This gives each of them a different flavour profile. Green teas are usually lighter and grassier, while black teas are usually more robust and earthy.
Do you sell teabags?

Watch this space for future variations - including teabags for those lovers of convenience!
Soooo goood
This is my second packet of the green. I made the mistake of waiting till I finished the first before I ordered the second, but that meant counting down the days for it to arrive.
Tasty tea
This is a great, tasty tea that can be drunk at any time of day. It has really helped reduce my caffeine consumption and is also a good gift to give to your tea loving friends.
I gave a few as gifts over Christmas and everyone has loved it so far.
Helps me unwind before bed
My fav green tea! It's become a bit of a nightly ritual to relax and unwind before going to bed. I find most green teas bitter and overpowering but this one is subtle and really enjoyable. Smells great too! I like that it's decaffeinated so you can drink before bed without any worries! It's also a great gift idea, my friends are loving it too :)
Perfect gift for a tea lover ❤️
Thanks Crane tea for your speedy delivery and beautiful tea. I know it will be loved as a Xmas gift this year 🙏🏼